Last updated on November 6th, 2020 at 05:25 pm
Gemma Hiles was born on November 27, 1986, in Preston, a small town in North West England whose history dates back to Roman times.  The most notable thing about the small suburban area of Preston besides being the birthplace of Gemma Hiles is Chingle Hall, one of Britain's oldest and most haunted buildings.
With blonde hair and blue eyes, Gemma Hiles has a face made for modeling, which she first started to do when she was just 18 years old part-time and by the time she was 19 she had taken it on as a full-time profession.
She started modeling in the British newspaper called The Sun and became known as a "Page 3 girl".  This is the same job that Katie Price (UK Jordan) was doing, it's how she got her start.  A Page Three girl is a beautiful woman who models for topless photographs published on the third page of the UK tabloid newspaper The Sun. The Sun is a tabloid newspaper published daily in the United Kingdom and the Republic of Ireland with the highest circulation of any daily English-language newspaper in the world with a daily readership estimated to be over 7.8 million, more than twice as many readers as The NY Times.  Since girls like UK Jordan made being a Page 3 Girl such a big deal a lot of girls started to accept less and less money just to be a model, some even doing it for free, just to get the honor of being in the paper.   So Gemma Hiles had to move on and find more suitable modeling jobs including being featured in Maxim magazine several times.
She was a Playboy UK Cybergirl in September of 2007 and since has also appeared in three additional "Busty Babes" sets for the world-famous magazine.
Gemma Hiles started modeling part-time when she was 18 and by 19 had made it her full-time career.  In 2008 she signed on to work for Bluebird TV and even appeared in one of their naughty movies in an all-girl group sex scene in the movie Anna Lovato: Yes Miss, where she plays the role of a naughty school girl.
Soon after though (maybe about a year later) Gemma left Bluebird TV and signed a deal with competitor Elite TV where she has been ever since.  Gemma often talks about her job at Elite TV on her Twitter page and you could tell she genuinely enjoys being with that company. (She's now-deleted her Twitter account)
In May of 2008, Gemma Hiles was in a movie called Chemical Wedding (in the US it was called Crowley). Basically, this was a British supernatural horror sci-fi flick. The story is based on an original screenplay by Bruce Dickinson, who many know as the frontman of Iron Maiden. He released a solo album entitled The Chemical Wedding in 1998, which despite sharing the title and title track from the film's soundtrack, is otherwise unrelated to the movie itself. Gemma Hiles played the character of Ruby.
Chemical Wedding was a low budget horror flick (made for less than $3 million) and didn't exactly get a lot of rave reviews but still, Gemma Hiles looked amazing and that's all we really care about anyway, right?
In 1947, noted Satanist Aleister Crowley dies. In Cambridge, 43 years later, with the help of a computer, Crowley's spirit takes over the body of Haddo, a mild-mannered, stuttering don. Over four days, as Crowley prepares for an occult extravaganza, bodies pile up, Crowley's elect engage in rites of passage, and Lia, a red-headed campus reporter, sniffs out a story that puts her in grave danger. Mathers, a scientist recently arrived from Cal Tech, may hold the key to her destiny.
 Gemma Hiles graced the cover of the August 20, 2012 issue of People Magazine (Australia).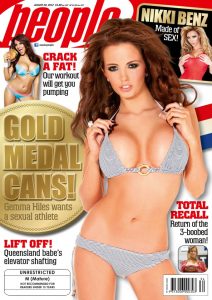 She recently turned off all of her social media accounts but she is still active in the UK as a glamour model and babe channel babe.